My work comes from my life long passion for animals and nature.
Each piece is as individual as the animals I portray, starting with the clay and glazes that I make from my own recipes to the creature itself which I hand build over a number of days.
The huge diversity of animals gives me an ever growing abundance of inspiration although I regularly return to my own favourites the fox and the hare.
If you have any questions about any of the pieces you see or would like to commission a piece then please feel free to contact me.
---
---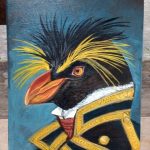 For Sale
If you are interested in purchasing any sculptures or paintings, please visit my For Sale page